Here is a preview of the new project I'm working on: Bailey's Big Day… It will be a new kind of storybook- part sing-a-long, part 3D animated movie, and part Augmented Reality. This is just a sample of the 3D Bailey model (I made and textured) in Augmented Reality. The model is interactive, so when you touch her she does an animation. Right now, the 3D model is unrigged/unanimated so the movement is a little jenky…
//Used Unity and the QCAR/Vuforia plugin for the Augmented Reality and game dynamics//
For the actual illustrations, I'm working with the amazing and talented  David Scheirer.
It's looking to a great start and the next steps are rigging and animating Bailey to do a little howl. Once this is complete, I'll make the video, and put this project on Kickstarter :)
Yay I finally updated my iPhone and updated my theme :) It's still very much incomplete for a full theme(which I plan on completing and selling in the future), but I'm happy with it… It features my always adorable, sweet, Baileykins and the illustrations were done by the talented David Scheirer.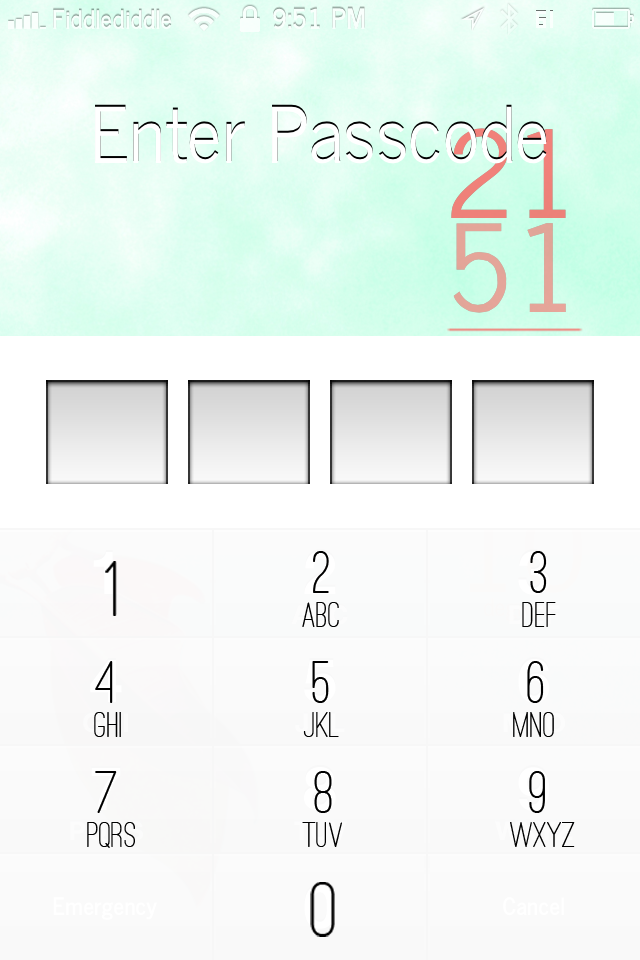 This is my lockscreen and customized the number pad. The lockscreen theme in the background is called LS Linear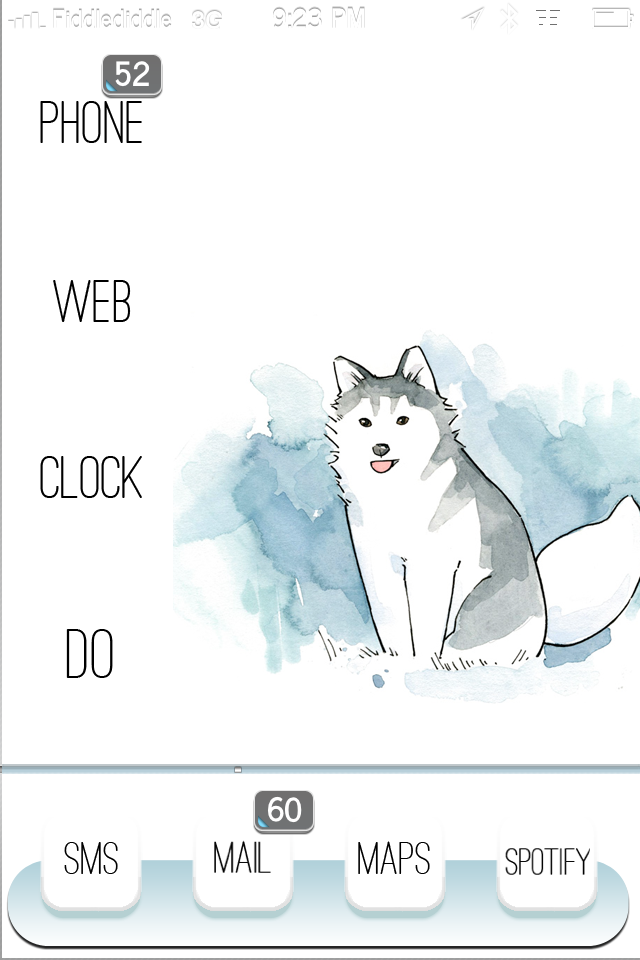 This is the home screen… I made it minimal by changing the icons to text. The font I used is Ostrich Sans Rounded. I used Gridlock to place icons anywhere I want and Infiniboard to scroll vertically. The clear top bar is from another theme that's active and I don't like it… I'll probably make the background the same blue as in the theme.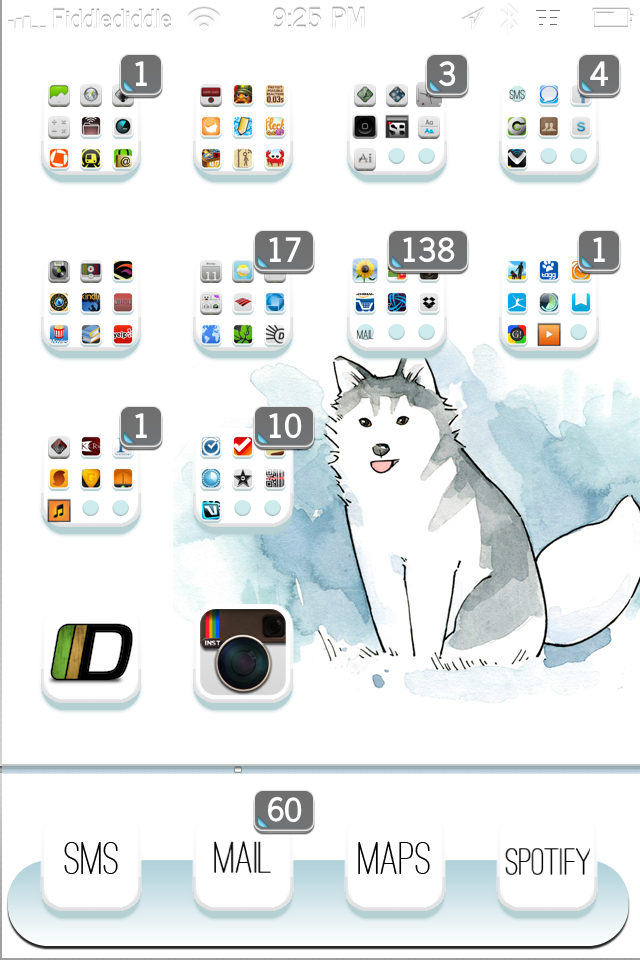 This is the second screen with the folders and other icons. I applied an Icon mask and Folder Mask so that it all goes with the theme.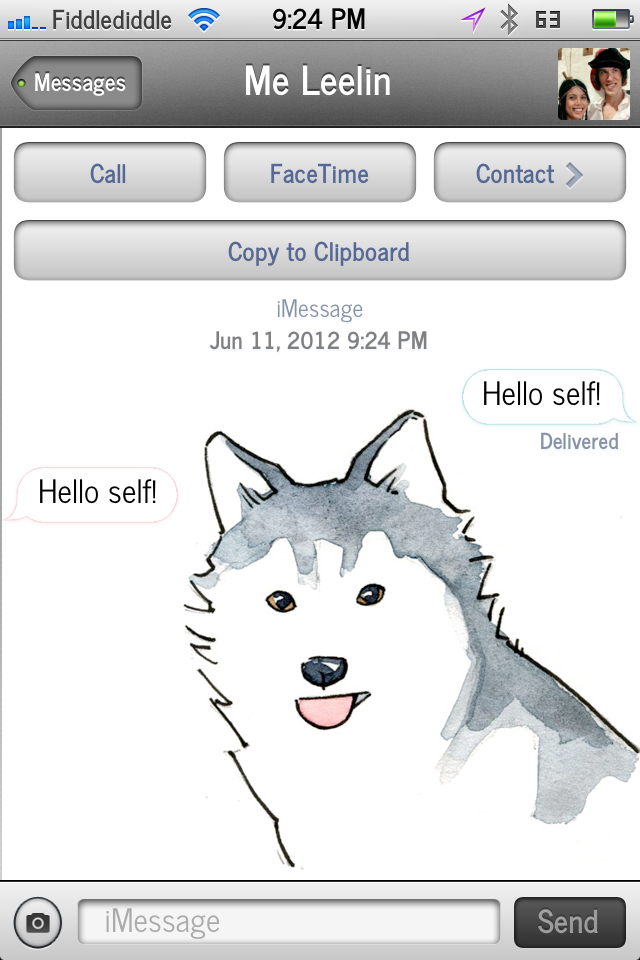 This is my SMS window which stars Bailey… I made the message buttons subtle because I did not like the original ugly green and blue…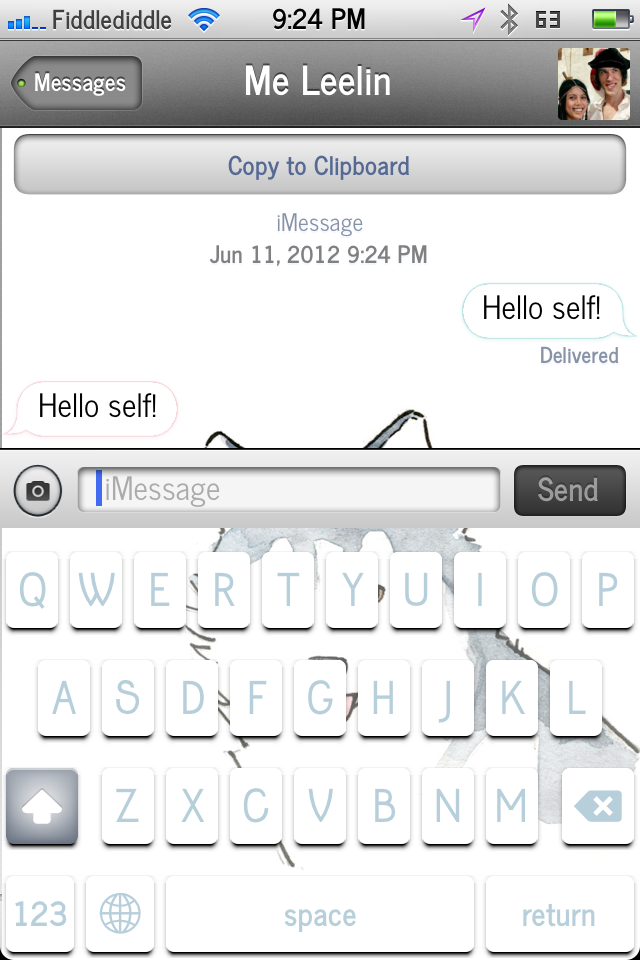 This is my Keyboard which I customized with the Color Keyboard App… The font is customized with Byta Font and the font used is "Jolly". Both apps can be found on Cydia.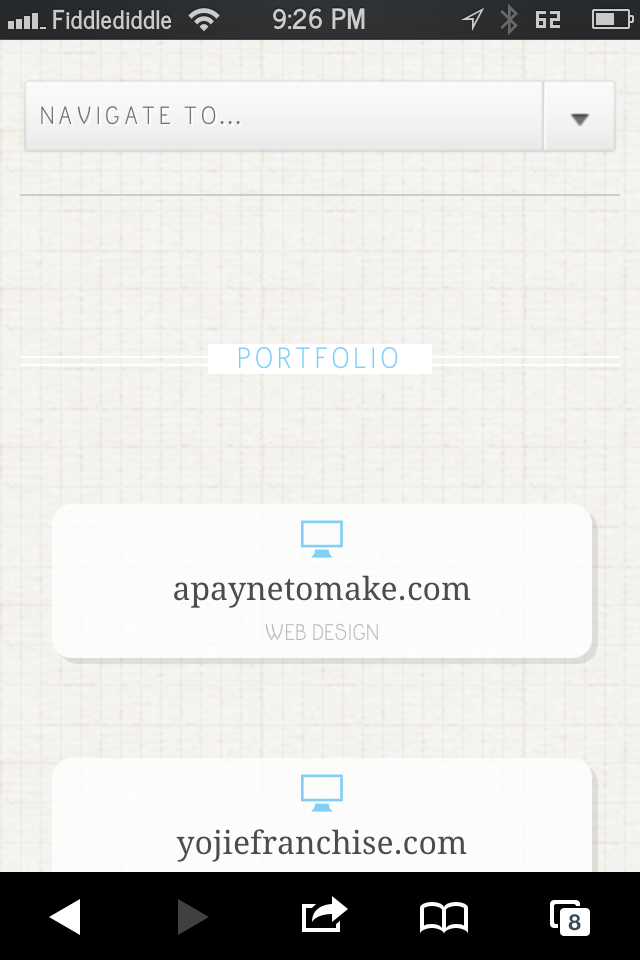 Here's how my site looks mobile… Some of the fonts were changed because of BytaFont, it's so cute, but it's just too bad I can't find the webfont to "Jolly" or else I'd change my website's fonts to these…
That's it for now… Hopefully I'll get inspired to finish and share my theme so that people can finally have a minimal, cute theme, which is severely lacking in the iPhone hacking community. Ping me if you want me to finish faster!
Since I've been learning Unity, I wanted to apply my new skills to Magical Cakes. Unity has an Augmented Reality plugin by Qualcomm and is very easy to implement (so grateful!) So I took my little cutie bear I've been working on, and put him in Augmented Reality :) It's super cool since Unity is a gaming engine, Magical Cakes will all be interactive. In these screenshots I have the bear blowing a little kiss (heart).. It's very much in progress, but I'm learning everyday!!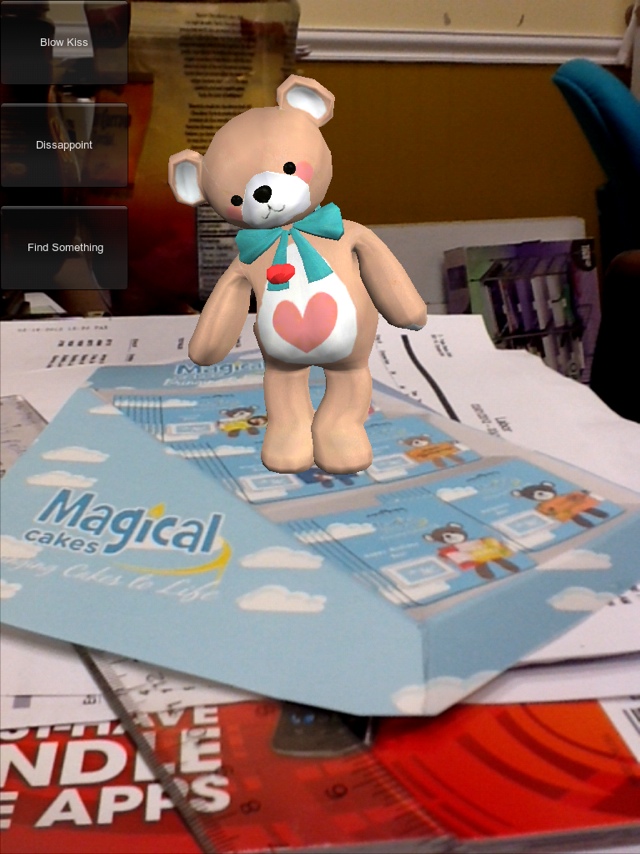 It has been exactly a year and 3 months since I first started web designing (professionally)… Here's a time line of my first website, enerGinseng.com… my how they grow up so fast :P
---
 -First time using Dreamweaver… Website is mostly just "Spry" Widgets.. Egh used inline framing…Brand vision of the time: toys coming to life when they drink enerGinseng
 -Managers didn't like the toys and kiddie theme so I changed it to a more "cafe" theme. Made round corners and a box shadow with png images. Used Histagram to take photos of coffee but someone called them "psychedelic coffee."
-New Brand vision: refreshing, uplifting, hip. Added a slideshow and some icons on top promoting free samples. Tried to take a more professional picture of the products.
 -Started using the open source eCommerce platform- oscommerce. Was very excited to get first customers.
-Switched to the smoother, better looking  OpenCart. Added social widgets.
-Customized the Shoppica theme and installed one page checkout and facebook connect. Facebook likes excede 800!
Here are some old pictures I found when I had a bunny "farm"… I miss those cute lil bundles of fluff!!
So I have a new project- design a retro rock n roll logo for a bakery. I tried looking for inspiration on the web and found some pretty cool stuff here. I think I'm going to go with a vinyl record with words inside and baked product in the middle. I'm playing around with Illustrator because everyone says it's the best for logo design, but I think it's so much harder than Photoshop. Oh well, if I pull this off, then I could add Illustrator to my skill list :P Below is the roughest of the roughest drafts…. First time using Illustrator so don't expect much!!!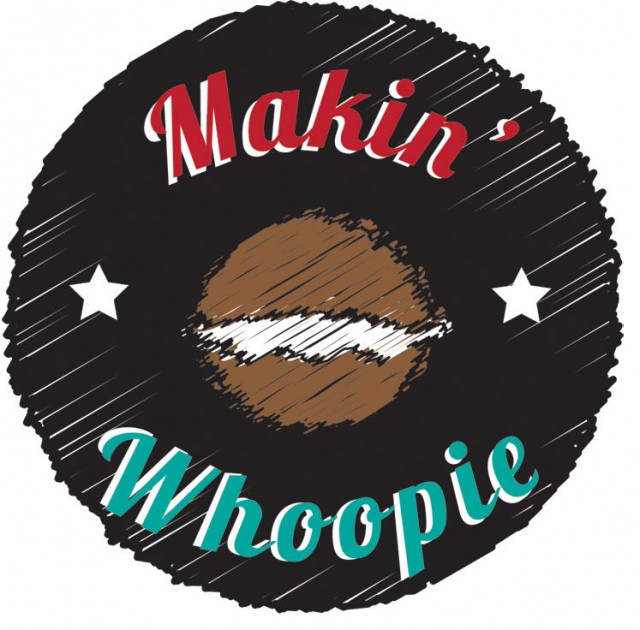 **UPDATE** Dec 14, 2011
Here's new logos I came up with…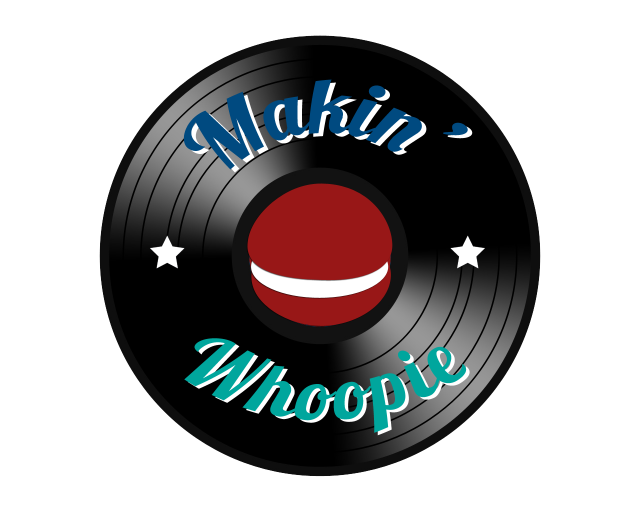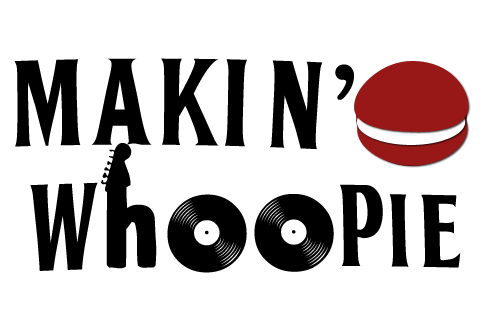 I've updated my Graphic Design Portfolio. Click on the images to view them!
my most recent complete project:
and Business Cards:
The Convention was fun and a success! We learned a lot from it and now the direction of Magical Cakes is a bit more clear. I'm redoing the whole site right now and just trying to get it perfect for our public launch next week. We'll start to sell to Goldilocks next week, so I have to create training material etc. It must be easy and fun to sell!